23.6.27
Highlights
Update to development branches
The UI now offers a way to upgrade to the bleeding-edge Pioreactor app and UI software, called "development". This software is unstable (and fun!).
Better thermostat
Improved temperature inference accuracy.
After some testing, we've found that the following set of PID parameters for temperature_automation.thermostat works better¹ than the previous set of parameters:
Kp=3.0
Ki=0.0
Kd=4.5

This set now ships with all new installations of Pioreactor software. Existing users can update their parameters in the config.ini
¹ Better == less thermal runaways, less sensitive to shocks, similar overshoot and settling time.
Everything else
On startup, the Raspberry Pi will write its IP address to a text file /boot/ip. This means that if you (carefully) remove the SD card, you should be able see the IP address (hopefully it hasn't changed).
Fixed source in BackgroundJobContrib - thanks

@odcambc

!
pio add-pioreactor will now accept an option that is the password of the RPi being added (default: raspberry). Ex: pio add-pioreactor worker1 -p mypass
Improved some warning and error messages.
Improved watchdog detecting and fixing "lost" Pioreactors.
Starting to test software against Python 3.11, in anticipation of a Python 3.11 coming to Raspberry Pi OS.
Improvements to bash scripts to make them more robust.
Adding pios rm <filepath> to remove a file across the cluster.
Adding -r option to pio update. Example: pio update <x> -r <repo> to install from a repo (default is Pioreactor's repos).
structs.ODCalibration has a new schema, inferred_od600s is now od600s. See pioreactor.structs.
In your Pioreactor UI, visit Updates in the left sidebar.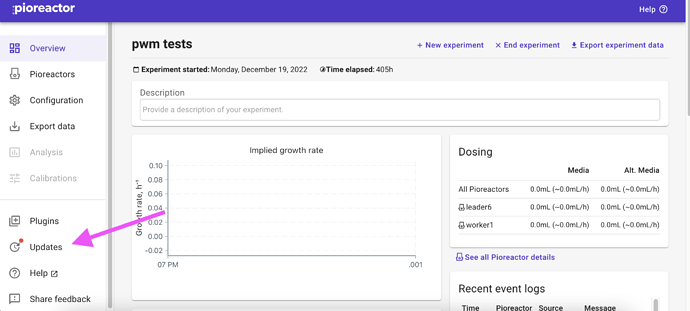 and click on "Update to latest release" in the top right corner: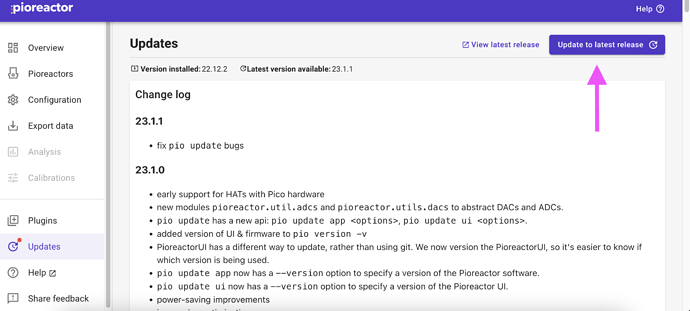 ---
Problems? Let me know here or at cam@pioreactor.com.